Chung Fu Martial Arts Meditation School is the culmination of Terry Hodgkinson's personal and professional experience spanning more than three decades. 
A journey taking him across the globe in his studies, evolving his wisdom and skill as a student and teacher in multiple martial arts, self defence, Qigong (Chi Kung), Taiji (Tai Chi), meditation and Tao-Zen philosophy.
Currently Terry teaches group and personal instruction out of his home city of Toronto. He also leads group international retreats to train in sacred places like Wudang Mountain China, Rishikesh India, Subang Philppines and Mt. Hamwol South Korea.
"Find a school or teacher that you admire, make a sincere commitment and practice diligently. If you persist in your practice you will most certainly experience positive results that will increase exponentially on many levels, in your life. The benefit of your acquired inner strength and wisdom through your dedication, will be highly rewarding in your training and in your everyday life!
The ultimate aim of any student is connecting with Chung Fu or 'Inner Truth'. Here you will discover more than you have ever imagined." 
Terry J. Hodgkinson
Founder, Master Educator
LIMITED TIME OPPORTUNITY: Terry Sifu is taking five beginner students at no cost for a trial period. This is a great opportunity to experience his high quality and unique training style!
Feeling stressed out? Experiencing a lack of focus, drive and energy? There are methods available that can help you feel, look and perform so much better. Nature's wisdom (the Way) has provided us with amazing tools that people all too often don't know about or make use of. Connecting with a deeper understanding inside – Chung Fu means Inner Truth – can help you solidify your purpose in life and thus your focus! Enter Terry Hodgkinson's Chung Fu School of the Way Online Training Portal and experience the difference for yourself!
Have you ever wanted to benefit from the wisdom and practice of: martial arts, meditation, self defence, Qigong, Tai Chi, Zen, Taoism, Yijing (I Ching), Reiki, hypnotherapy NLP etc but you could never quite find the time, teacher or it just was never convenient to do so?
Terry Hodgkinson C.H. PNLP. C.R.M.T., Founder and Master Educator of Chung Fu School of the Way is soon launching his online Chung Fu School of the Way Training Portal so no matter where you are located, you can start benefitting immediately from his already proven curriculum, just like thousands of his other personal students have over many years.
If you are interested in applying to be one of the five trial students, contact Terry Sifu directly.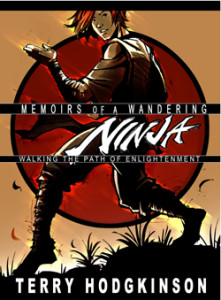 Sign up to receive our newsletter with helpful hints, useful resources, upcoming events and a free gift. Upon joining you will receive a FREE CHAPTER DOWNLOAD from Terry Hodgkinson's book, Memoirs of a Wandering Ninja – Walking the Path of Enlightenment.
Your email is SAFE. We respect your privacy & would never share your email address.
When I met Terry in the mid 90's, I knew there was something special about him. At first I couldn't put my finger on it. I had met superb martial artists before and encountered dozens of talented therapists, but with Terry there was something more. As we became close business associates and friends, I realized what it was; Terry is authentic. In the world of self-help, there seems to be a new guru or an acclaimed breakthrough every week, but most of these fall short in substance and method. In Terry I found the real deal. He had walked the walk.
Dr. Patrick Porter
Wudang, China Retreat
A Two Week Training Adventure in the Clouds of Sacred, Taoist Wudang Mountains
November 6th – November 18th, 2017
Each year Terry Hodgkinson Sifu leads a two week retreat to the amazing Taoist Wudang Mountains in China. We will also be accompanied by Fan Yang – Chinese Liaison & Retreat Coordinator. Zhang Chi – Sifu at Wudang (China) Tao Gung Fu Academy Zhang Fan – Sifu at Wudang (China) Tao Gung Fu Academy.
See the short video to the right for amazing scenery and people we met on last years Wudang adventure trip.
For complete details of this amazing retreat please visit: www.taojourneys.com/journey-to-china
Rishikesh, India Retreat
A Two Week Meditation Journey by the Holy Ganges River & Himalaya Mountains
November 20th – December 2rd, 2017
Each year Terry Hodgkinson Sifu leads a trip through India where you will get visit many spiritual places and spend a week in the spiritual city of Rishikdesh. Here by the shore of the Ganga (Ganges) River at the foothills of the mighty Himalayan mountains, you will discover your inner peace and strengthen your life purpose.  For details of this amazing retreat visit: www.taojourneys.com/journey-to-india